Construction Dewatering for sewage plant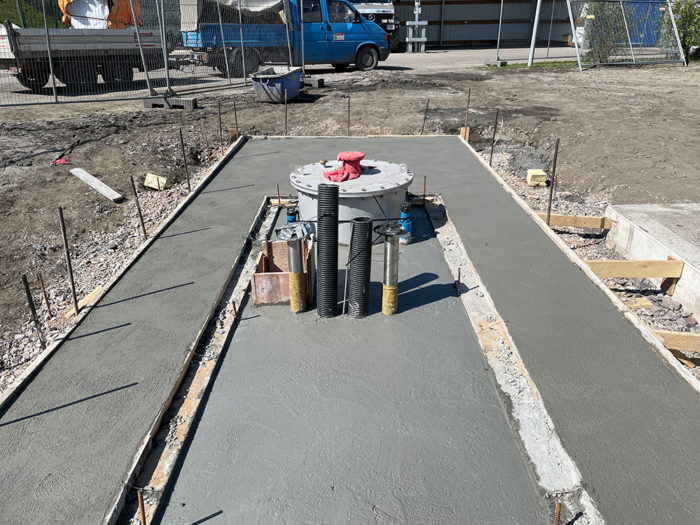 Construction site for the groundwater lowering
Construction Dewatering for sewage plant
Project description
There is a cutoff wall along a length of 800m. To prevent the water from flowing around the cutoff wall, there are 5 well stations along this cutoff wall.
Each well station consists of a well chamber containing a deep well pump. This is operated by a frequency converter to allow stepless control. Both the groundwater level and the flow rate of the water are measured by appropriate sensors.
The control system of each well station is installed in a robust outdoor control cabinet, which is located directly next to the well chamber.
In addition, further groundwater measuring points are located along the sealing wall, which continuously record the height of the groundwater level. The total of 18 groundwater measuring points thus provides a comprehensive picture of the current situation.
The entire system is implemented via a high-performance control system in a drive house. This houses a control cabinet array which supplies all well stations and measuring points with voltage, controls and monitors them. The PLC, programmed according to the specifications, is protected against power failures by a UPS. In addition to the PLC, a VPS is also provided to ensure plant operation in the event of a PLC failure.
Various display instruments and an HMI show all measured values that are recorded in the plant. In addition, various settings can be made via the HMI, such as the performance of the individual pumps, should they be in manual mode.
The drive house and the well stations are connected to each other by empty pipes in which approx. 2.7 km of power cables and 7.5 km of control cables run.
---
Discipline
Project to permanently lower groundwater levels to prevent contaminated groundwater from flowing into a drinking water area.
---
Sourcetronic services
Project planning and design of the control cabinets
Construction of the 9 control cabinets and installation on site
Removal of the 5 well chambers
Installation of all probes in the 18 groundwater measuring points
Programming of the SPS according to the bill of quantities
Standardized testing and documentation
Commissioning on site
---
Advantage
The pollution of drinking water has serious consequences. To prevent this, constant monitoring of the current readings by the 18 groundwater measuring points is essential. In addition, efficient pump utilisation is ensured. The pumps are switched on or off frequency-controlled to ensure longevity and efficient energy use.
---
Industry solution