Geothermal plant for a shopping center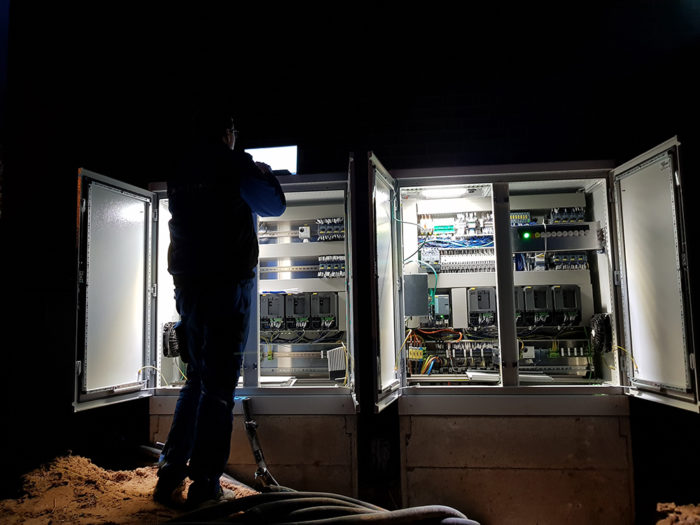 Air conditioning of a shopping center by geothermal system
Geothermal plant for a shopping center
Project description
There are eight production wells on the site. Each pump is controlled by a frequency converter. There are also probes in each well to determine the water level.
There are two rugged outdoor control cabinets on the shopping center site that contain PLC modules as well as eight powerful frequency converters. A small control cabinet hangs in each well room, which evaluates the signals from the probes and switches off the pump if necessary.
In the operating room of the shopping center there is a control cabinet, which supplies the system with voltage. In addition, a PLC is installed there, to which an HMI is connected, via which the system can be controlled and monitored.
Depending on the requirements, the system automatically determines which pumps are to be operated and at what capacity. The calculation is made taking into account the respective operating hours.
---
Discipline
The air conditioning of a shopping center is to be done with the energy of a geothermal plant.
---
Sourcetronic services
Project planning and design of the control cabinets
Construction of the 11 control cabinets and installation on site
Programming of the PLC
Testing and documentation according to standards
Commissioning on site
---
Advantage
The energy crisis is more current than ever and costs continue to rise. Energy and costs can be saved through the energy efficient control of the pumps by the geothermal system.
---
Industries solution